Facebook shut down our page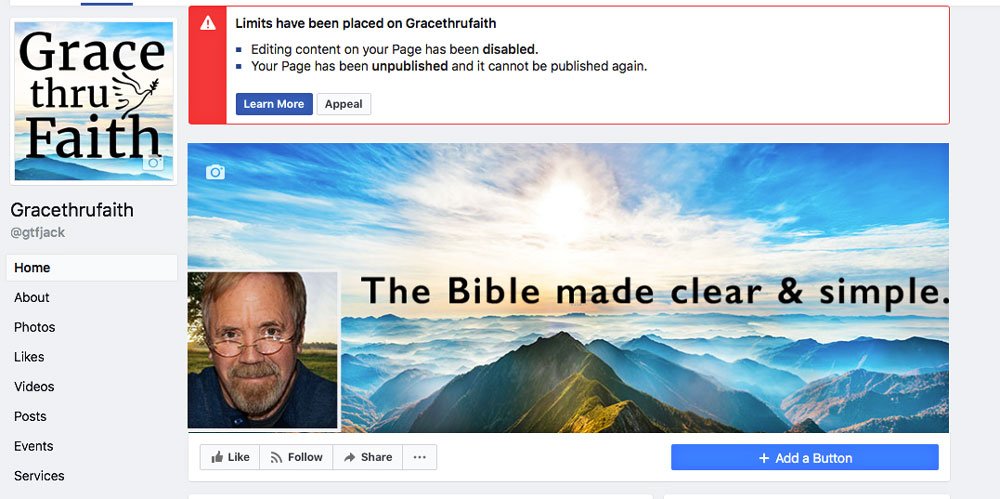 Facebook has removed the Grace thru Faith page from their site.
We haven't received an explanation, but we've heard from other ministries who have experienced the same.
I appealed to have them reinstate it, stating that we haven't violated any of their policies, and they have now denied my appeal twice. Both with no explanation.

Sorry for this inconvenience!
We have the option of making a new Grace thru Faith Facebook page. If this is useful to you and you'd like this to happen, please let me know via our contact form here.
In the mean time:
You can still use the links at the bottom of every article to share them with your Facebook friends.
If you used Facebook to receive notifications of featured posts, you can still receive them via email by signing up here:http://eepurl.com/3ryif
There is also an email signup form at the bottom of every article on the site.
Many readers have asked me to create a private community board on our site where they can chat and discuss the posts and the Bible with other like-minded believers. I'm looking into this now. If you have any suggestions or requests for this, please fill out  our contact form and let me know.
If you're already on our email list, you received a heads-up on this before. The new info for you is that they have now officially denied two appeals. I can't appeal again for a certain amount of time (unspecified by them).
Thank you so much for being a part of this ministry. You guys are the best! Thank you so much for your support.
God bless you,
Samantha