Merry Christmas and Happy New Year 2019!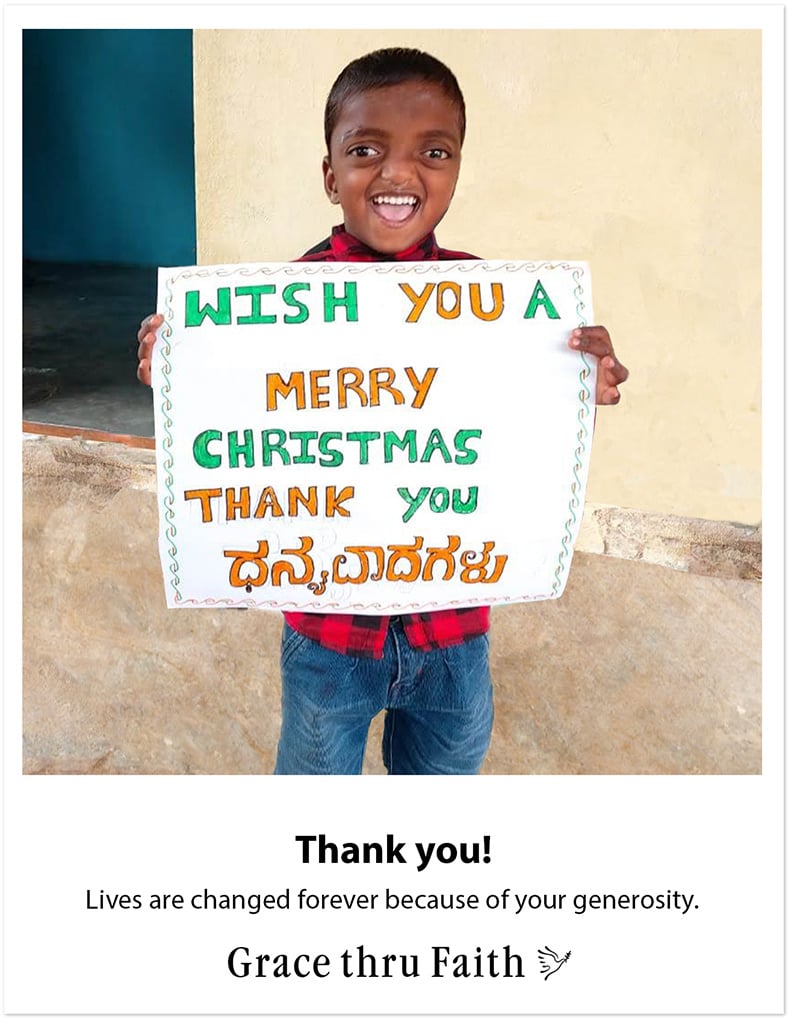 We couldn't do any of this without you, and lives are changed forever because of your generosity!
I'm so grateful for your love, your prayers, your encouragement, and your support. Thank you!
GTF turned 20 this year! Jack and I wanted others to look at this ministry and know it could only work because God is in it. We made sure our giving and our efforts reflected that. And I'm so very grateful it's even more apparent now, four years after losing Jack, that this is 100% the Lord. This only exists because God is faithful—and you are too!
God is so good, and He cares so deeply for us. He is kind and generous and loving, and we get to receive His love and His generosity and pass them on to those in need. I'm so grateful we get to do this together!
It's been an incredible year. Our outreaches continue, and they are being blessed, and they are multiplying! We make sure that every widow we serve no longer has to beg in the streets for food or be in danger of losing their kids! We are putting an end to generational poverty with education for parents and kids! We are raising up leaders with hearts for Jesus and His sheep. We are serving where the Lord leads in three countries now: Mexico, India, and South Africa.
In Mexico, we serve families in need and refugees. We repair homes, provide food and medical care, and help kids stay in school to break the chain of poverty in their families. We take care of 40 kids each week in our Escuelita (little school)! 
In India, we have two churches, an Adult Literacy Center, and now a skill center to help the parents learn and grow in taking care of their families with safe, reliable work.
This year, we started a church in a dangerous, persecuted area. After 12 years of praying and serving, we began this church! It has come with so much interference. An extremist group targeted us, and we now take extreme safety precautions. This outreach, that the enemy so feared, has been a blessing to the whole area. And in spite of persecution, it's growing!
Because of this persecution and danger, we created a private forum to share the details of this new church with you safely. It has also become a beautiful place of fellowship and prayer! I'm so excited to get to know you all more, and for you to get to know each other! Email me if you would like access. 
We began a new outreach in South Africa! We've helped girls stay in school and are feeding families in need. We host our first Christmas outreach soon.
We are praying for more growth and more impact in the next year! We are planting seeds of love and freedom in Jesus, And He is bringing beauty from ashes in every area we serve. Praise God!
We make sure everyone we serve feels seen and loved by God through our giving. Knowing the Creator of all sees them and their struggles, and loves them as they are is transformational!
During all this, the site and readership continue to grow! Thank you for sharing this ministry with your friends! I'm honored to steward Jack's legacy, and I'm so blessed to share it with new readers.
I'm excited to see what the Lord has in store for 2020. With all the blessings have come more interference, and we need more prayer now than ever before. Please pray for us, this ministry, our volunteers, and those we serve.
I pray the Lord blesses you abundantly beyond all you can ask for or imagine, now and in the New Year!
With love and gratitude,
♥ Samantha