40 Days of Prayer: Where is God in this crisis?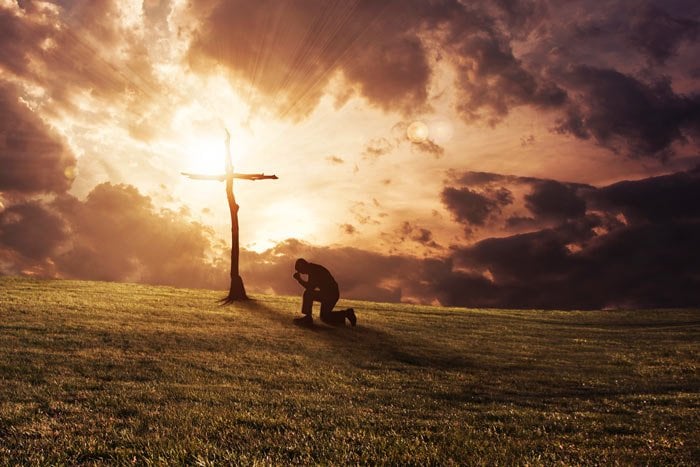 It's Day 23! And whoa, has this ever been a doozy?! I'm so glad to have everyone praying together during this time. It brings me so much comfort to know you all are praying with me and for me. Thank you!!
People are writing and asking me, where is God in this crisis? Did God bring this as judgment? Can we ask for His help? These are good, honest questions. God can take any questions you have.
Here are all the posts so far in this series:
The world looks completely different today than it did just a week ago. Life feels like it's both on hold and moving too fast. We're all trying to take care of loved ones, and all our responsibilities, while not leaving the house and washing our hands constantly. People are scared. People are scared for their loved ones, for their jobs, for their futures.
Many of these questions reveal just how privileged our lives have been in the West. We've been so blessed, that hard times are seen as an abnormality instead of the norm, as it has been in the developing world.
So, where is God in this crisis?
He is in you.
I am crucified with Christ; it is no longer I who live, but it is Christ who lives in me.  —Galatians 2:20

And in Him, you too are being built together to become a dwelling in which God lives by His spirit —Ephesians 2:22

That Christ may make His home in your hearts through faith. —Ephesians 3:17
And perhaps my favorite:
Christ in you, the hope of glory. —Colossians 1:27
God is here, in us. Ready to equip us for every good work. Ready for us to show the reason for the hope we have in this crisis. (1 Peter 3:15) Ready to be the salt and the light to the hurting world. Ready to be our provision as we seek Him first. Ready to guide us on how we can do these things while not leaving the house and washing our hands constantly! Your actions may be the answer to another's prayers.
What the enemy intends for evil, God will use for good (Genesis 50:20)
Jesus told us that the thief comes only to steal and kill and destroy, but that He has come that we may have life, and have it to the full. (John 10:10)
While the enemy is busy trying to steal, kill, and destroy, we are standing in full authority in Christ to say, not here, not today. When things look darker, we pray harder.
Beyond the very real life and death risk in this pandemic, there are also plenty of forces trying to divide us. But we won't fall for it. We are praying together in love, in unity, as one body with many members. When we are in Christ, there is no longer Jew or Gentile, slave or free, male or female, (Galatians 3:28) and I'll add all political affiliations of every country here as well. Especially politics.
Jesus isn't on either side of any political divide. We are on His side. And it's time to start acting like it. We will not slander those with views different from ours, we will serve them and love them as ourselves, putting them above ourselves. We will be the hands and feet of Jesus, serving in love, or we're not fit to call ourselves His followers. It's time to start acting like we believe Jesus was serious when He said the world would know who His disciples are by their love. (John 13:35)
I don't believe the Lord sent this virus, but I do believe He will use it for our good. (Romans 8:28) And while we pray for the virus to be contained and lives to be saved, we know from Romans 5:1-5 that we are to glory in our sufferings because suffering produces perseverance, perseverance produces character, and character brings hope.
Let's get our hopes up!
These sufferings bring us perseverance, character, and hope!
When I'm afraid, I put my trust in you. In God, whose word I praise—in God I trust and am not afraid. What can mere mortals do to me? —Psalm 56:3-4

We have this hope as an anchor to our soul, firm and secure. It enters the inner sanctuary behind the curtain, where our forerunner, Jesus, has entered on our behalf. —Hebrews 6:19-20

I pray the eyes of your heart may be enlightened in order that you may know the hope to which he has called you, the riches of his glorious inheritance in his holy people and his incomparably great power for us who believe. That power is the same as the mighty strength he exerted when he raised Christ from the dead and seated him at his right hand in the heavenly realms, far above all rule and authority, power and dominion, and every name that is invoked, not only in the present age, but also in the one to come. —Ephesians 1:18-21
Let's reach out.
There is someone in your life who needs a call today.  There's someone who needs to hear your encouragement, your hope, and your love. There is someone in your life who needs to hear you pray for them out loud, not just hearing you say that you'll pray for them. There is likely someone in your life whose immune system is compromised and needs someone to wisely, with caution, brave the stores or get the delivery for them of food or medicine or household supplies.
Let's keep being the salt and the light. Let's bring the love and peace of Jesus into each situation. Even when we're separated and keeping our distance. Especially now. We can be cautious and wise and loving. We can spread love and peace, not germs.
♥ Samantha